Aankondigingen 2019
Dublin 9 en 10 Januari 2019
The International Network for Health Workforce Education (INHWE)
is organizing a conference on interprofessional education.
Call for Abstracts - Dublin 2019
The 2nd European Conference of Health Workforce Education & Research is inviting abstract submissions which engage with one or more topics relating to 'Interprofessional Education' or the conference sub-themes. We also welcome abstracts and proposals on other important topics for healthcare education. The conference provides a unique setting for participants to explore this theme and form new collaborations with international colleagues involved in teaching, research, and policy fields. Submitters have until Friday 5th October 2018.
The Call for Abstracts is now closed. For inquiries please contact us via https://inhwe.org/contact.
Conference Theme: Interprofessional Education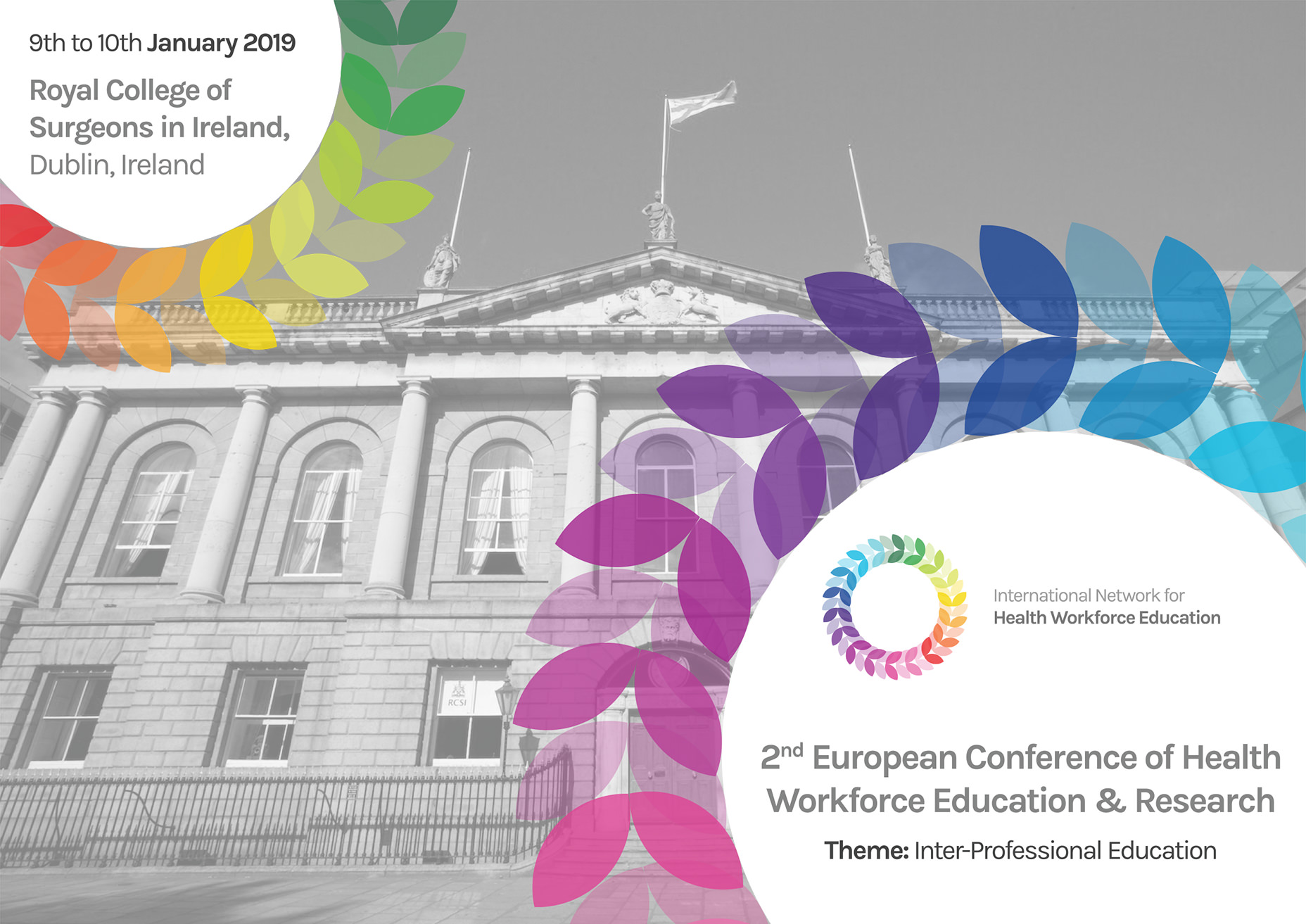 Every two years the ATBH conference provides an opportunity for participants to discuss ideas and devise and test strategies to mobilise concerted action to improve health and wellbeing for individuals, families and communities across the world.
Further information, programme & registration: ATHB Auckland

IPES-Nederland zal met een oral presentation deelnemen aan deze conferentie
---
10th - 11
September 2018
'

Innovation in Practice Learning and Field Education'
12th International Conference on Practice Teaching and Field Education
in Health and Social Work 2018  St John's College, Oxford, UK.
An interesting and stimulating conference with 70 abstracts from 13 different countries.
The focus of this conference is on learning and teaching in practice, with allso an interprofessional theme. Further information, programma & registration:   St John's college oxford

EIPEN CONFERENTIE 2017 in Lausanne, Zwitserland 6-8 September 2017
IPES-Nederland heeft deelgenomen aan de twee jaarlijkse EIPEN conferentie in Lausanne Zwitserland.
Kijk hier voor het overzicht van alle workshops 

The European Interprofessional Practice and Education Network (EIPEN) aims to develop and share effective interprofessional training programmes, methods and materials for improving collaborative practice in health and social care in Europe.

---
EIPEN Conferentie 2015 Nijmegen, Netherlands
Augustus 2015,
hebben de initiatiefnemers van het netwerk Interprofessionele Educatie en Samenwerking, zorg, welzijn,voor de eerste keer in Nederland de internationationale conferentie over interprofesionele samenwerking en educatie georganiseerd.
De conferentie was een groot succes en stond met de ontwikkelaars van het eerste uur, aan het begin in van talloze nieuwe ontwikkelingen op dit gebied in Nederland. 
Hieronder een impressie en achtergrond informatie. 

Programmaboek met een overzicht van abstracts, presentaties, workshops en posters over nationale en internationale projecten op het gebied van interprofessionele educatie en samenwerking. download